Emily Carr, extraordinary Canadian artist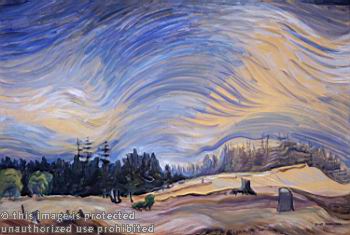 Several years ago I ran across the art of Emily Carr at the
Vancouver Art Gallery
. It stopped me in my tracks. Her work is powerful and spiritual and her Northwestern subject matter is uniquely hers in the same way that Georgia O'Keeffe's Southwestern icons belong to O'Keeffe. The two were near-contemporaries, Emily being the older. Apparently they met once briefly when Carr visited an exhibit of O'Keeffe's paintings in the U.S. Like O'Keeffe, Carr was an emerging woman artist in a man's world, but unlike O'Keeffe, Carr had no Stieglitz to support and promote her. The daunting distance between her home in British Columbia and the art centers in the Eastern provinces created great difficulties, as well.
I've often come across references to Carr's writings and I'm finally getting around to reading her works. She was every bit as expressive a writer as she was a painter. Her writing is down-to-earth and yet somehow lyrical and poetic. There are a number of small volumes published, but I bought a used copy of
The Complete Writings of Emily Carr.
The book isn't an autobiography in the usual sense. Rather each volume of stories is a collection of reminiscences of various experiences and times in her life and her acute observations from childhood throughout her life. For more information on Emily Carr, check out the entry at
Wikipedia
Another good book is Doris Shadbolt's
The Art of Emily Carr.
Labels: art history, artist, books