Artists in their studios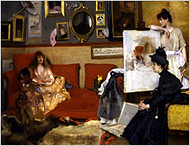 New York Times art critic Roberta Smith roamed the rooms of the Metropolitan to discover paintings of artists at work, a behind-the-image look at the artistic process as revealed in the paintings of artists of the past. This fascinating
illustrated article
is worth your time. I thought it interesting that Smith's investigation was initiated by the realization that a painting she had originally thought depicted three women having tea was actually a woman artist, a model and a studio visitor.
You're welcome to visit
my studio
and the
studios of other artists
while you're browsing.
Labels: art studio