Book Reviews
My book-review stack has at least two dozen books on it. I'm afraid the stack might fall over and break my leg if I don't reduce it pretty soon. I read every evening and during every spare moment, but I don't seem to find time to do the reviews. Too busy writing my own book, it seems. So I'm going to take a break occasionally and write at least one review a day until I'm caught up.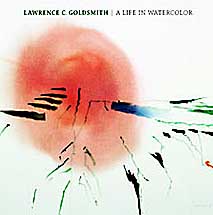 Today's book:
Lawrence Goldsmith: A Life in Watercolor
by Carl Little (2004). Goldsmith is among my top ten favorite contemporary watercolorists. (Don't ask. I don't actually have a list yet.) You could almost call him a minimalist. His works are often high key, awash with transparent colors that evoke the New England landscape. His flowing washes on wet paper are accented with calligraphic brushmarks and scrapings that create surprisingly strong energy and movement. Little's essay recounts Goldsmith's travels and influences and captures the essence of his personality. The painter traveled widely, but his paintings largely reflect his beloved Monhegan Island, where he kept his summer studio for many years. The book is lavishly illustrated with reproductions of many of his beautiful watercolors. Sadly, Goldsmith died at the age of 87 in 2004, just before the release of this book and the subsequent exhibition of his work. I learned of his passing and of this book when I recently went to his website to make contact about using his work in my new book. His work appears in both versions of my
Exploring Color
book.

I fell in love with Lawrence C. Goldsmith when I read his earlier book,
Watercolor Bold & Free: 64 Experimental Ideas and Techniques in Watercolor
, originally published in 1980. His work is spontaneous and luminous, two qualities I value highly. This book was a revelation to me, after having studied for so many years with watercolorists who emphasized realism and values. In 1983 I stopped by his studio on Monhegan and enjoyed a brief visit with this most gracious man. The walls of his studio were covered with his original watercolors, many quite large, and simply breathtaking. His legacy is passed on through his beautiful books.
Labels: artist, book reviews, lawrence goldsmith, watercolor