Seeing the landscape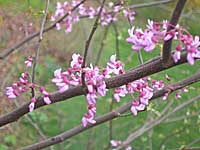 The first year of our woodland restoration we planted ten bareroot twigs that were supposed to be redbud trees in a little grove just past the end of the driveway. We've been waiting patiently all this time. Two of them died and a couple look puny. This year we were rewarded with our first blossoms on the biggest tree almost four feet tall now.
At this time of year I'm always reminded of one of the most important lessons I ever learned when I first began to paint in watercolors. The instructor took us to a covered bridge in the country in the early spring. He told us to look carefully at everything before we painted, because not everything was as green as we expected it to be. Sure enough, off in the distance, where the trees were just beginning to bud, a soft pink dominated where the palest of green leaves hadn't yet begin to sprout. That was my first experience with outdoor painting, which now has the loftier name, "plein air" painting. That same teacher introduced me to my favorite landscape painting book,
Carlson's Guide to Landscape Painting.
My other favorite is another oldie,
Painting Trees & Landscapes in Watercolor.
Labels: landscape, watercolor, wildflowers, woodland, woods