Friday adventures downtown
I went to downtown Dayton to deliver a copy of
Confident Color
to the Graphics Terminal team that photographed some of the work for the book--in fact, for all of my books, since 1983. I enjoyed watching Greg page through the book, stopping to study pieces he remembered photographing. Ed walked through and reminded me to read a letter posted on the counter. Like most photo labs, GT is phasing out film and in a few months will no longer be doing transparencies and slides. I'm not surprised. Some of the artist contributors in my last two books had trouble finding "wet labs" to process film. I enjoyed working with the digital photo files for several reasons, one of which was the capability of seeing the image in all its glory on my monitor. Looking at slides and transparencies on a light-box doesn't begin to compare. The main problem I had with digital was getting the artists to follow the instructions, briefly, using a quality 7+MP (preferably, 10 MP) camera with a good lens (not a point-and-shoot), saving at 300 dpi sized to 9" x 12". Those were my publishers specs. I also required a Kodak color strip to be in the photo frame to aid in color correction. I've decided that all submissions for my next book, whatever it might be, will be digital.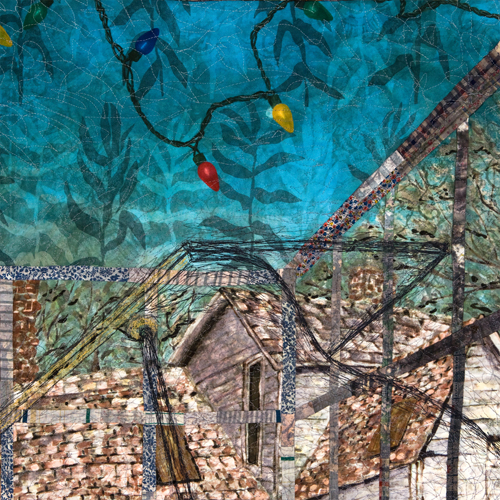 After I left GT, I drove around the block to
the Dayton Visual Artists Center
to see the two shows currently installed. Jeana Eve Klein combines creative quilting and painting in her large quilts (detail shown). Her small quilt squares are spectacular color abstractions. Bridgette Bogle's playful acrylic paintings on small canvas squares are colorful interpretations of popular motifs. Both shows are delightful and run through the end of March.
Labels: dayton visual arts center, digital photography, graphics terminal