The wildflowers are amazing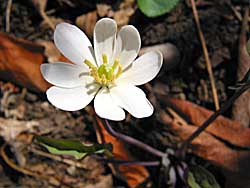 I noticed when I got home from Dallas on Monday that there were spots of white and color in the quarter-acre woods. On Tuesday I took a walk and here's what I found blooming or ready to pop: twinleaf (photo), bloodroot, spring beauty, Virginia bluebells, grape hyacinth, Grecian windflower, Siberian squill, pulmonaria, sharp-lobed hepatica, periwinkle, white violet, toothwort, Dutchman's breeches, and isopyrum. Also, the forsythia and daffodils are cheerful in spite of getting whacked by low temperatures after they had sent up four or five inches of leaves in January. Go to my
wildflower pages
to see what the flowers look like.
I ripped out a few spindly alien honeysuckle seedlings and noticed that there are some garlic-mustard sprouts, but nothing like I've been battling in past years. The overgrowth of these plants completely wiped out the blooming wildflowers I used to have. I planted lots of new flowers, but I think many of those that are flourishing have been dormant for years. See my
woodland pages
for more on my restoration project. I think it will be a breeze to do the weed cleanup this year, but there are a lot of branches down from high winds this winter. These stay on the woodland floor, but I break them into small pieces so they'll decompose more quickly.
Labels: wildflowers, woodland, woods