Don Andrews watercolors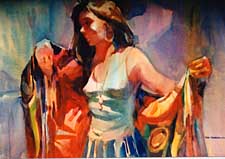 Yesterday I showed my class a
Don Andrews
video, "Making Watercolor Glow." The guy is amazing. His color is so vibrant and what he does with granulating watercolors you would not believe until you see it. Don is a good teacher. He explains things clearly in his soft Southern accent and, of course, makes it look easy. His book,
Interpreting the Figure in Watercolor
is the next best thing to the video to learn about his methods. Also, Don teaches more workshops than anyone else I know, so you may have a chance to take one when he's in a town near you. Don's workshop schedule, video and a softcover edition of his book are available on his
website
.
Labels: artist, don andrews, watercolor