Mini-palette goes to art therapy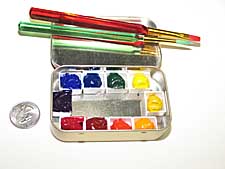 I finally found a use for my mini Altoid palettes. Today I visited an artist friend who is in rehab for a serious illness. She can't walk yet, but until she can, she is able to sit in a chair and chat or read. Dottie is a painter of bright, sunny watercolors and I would love to see her painting again soon. I gave her one of my Altoid boxes, several small brushes, a 5" x 7" pad of 140# watercolor paper, and an empty box for water. Everything fit into two small Ziploc bags. Her eyes lit up when she saw the paints.
Here is
how I made my Altoid watercolor box
. Several other people elaborated on the Altoid box and created fancier boxes, but mine is the easiest to make (15 minutes, including filling it with paint) and probably the least expensive. You can put any colors you want into the half-pans. I used a full palette of ten artists' colors: Ultramarine blue, phthalo blue, Hooker's green, Lemon yellow, cadmium yellow, Indian yellow, cadmium red, permanent alizarin crimson, permanent rose and dioxazine violet. After seeing her smile, I think I'll make some more palette-boxes and keep them on hand for other artists who are temporarily unable to paint in their studios.
Labels: art therapy, color, oil painting, palette, watercolor