Digital Scrapbooking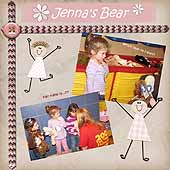 It's a cold, blustery day in Ohio and ideal for staying put in my studio and learning something new.
Scrapbook Max!
sent me a review copy of their digital scrapbooking software after noticing my recent blog post about the scrapbook I made for my granddaughter. I've been playing with the software this afternoon and I think it's pretty amazing. I should mention that I once installed a competing product and got so frustrated with it that I deleted the program from my computer and put digital scrapbooking out of my mind.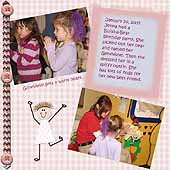 But Scrapbook Max! is so easy and the selections of templates, embellishments, backgrounds and objects is huge. I decided to keep an open mind and got to work. I began with a template called "Girl Friends" that had five pre-designed pages. I selected nine photos from Jenna's Build-a-Bear party to tell the story of her new friend, Genevieve Bear. The first and last pages seemed too busy for my taste, so I found a simpler template for the background of those pages and resized some of the flowers, making them a bit smaller. I liked the paper dolls and other embellishments, which you can see in the photos.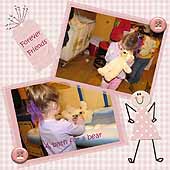 Once the photos were in place, I wrote captions and a short journal entry. I chose a funky font and a contrasting color for the text. I moved, cropped, resized photos and tilted the captions, using both the menu bar and the icons, which are very easy to find. The whole thing went together in a snap. I'll admit that it helps to be computer-savvy, but I think most people who are reasonably comfortable with a computer will find this progam easy to manage.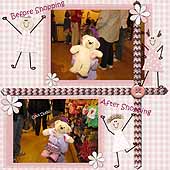 The program has an astonishing variety of photo editing options for such a reasonably priced package ($39.95). When I finished and saved the pages, I emailed a copy to myself and my daughter. They looked great! Then I resized and uploaded them to my server so I could put them on my blog. You can also make slide shows and order prints online from your browser. Scrapbook Max! has a lively community forum, which I scrolled through to see how the neighborhood looked. I found friendly faces and helpful support for all questions relating to digital scrapbooking. There are galleries of pages that people have uploaded to share.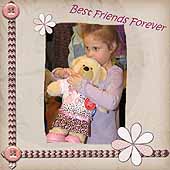 Registered members may share their original designs for embellishments and pages in template libraries. The web site also offers a free newsletter. Additional booster packs may be ordered online. You might want to try the
easy tutorials
and then the
free trial version
of the Scrapbook Max! program.
Labels: little artist, scrapbooking