Scrapbooking--an art for everyone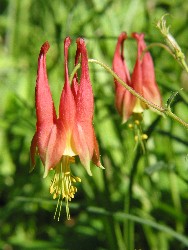 My name is Nita. I'm a Scrapaholic. I've been scrapbooking for one day. I admit I enjoyed it. Here's my story. In 1998 I launched my web site
www.nitaleland.com
. I bought a digital camera so I could put pictures on my web site. In 2001 I upgraded my camera and began taking photography seriously, photographing
wildflowers
in Ohio, Colorado, Arizona and Massachussetts. I used a computer progam to print out pages of my pictures and put them in big notebooks. In a short time I was a Photoholic, but that's another story.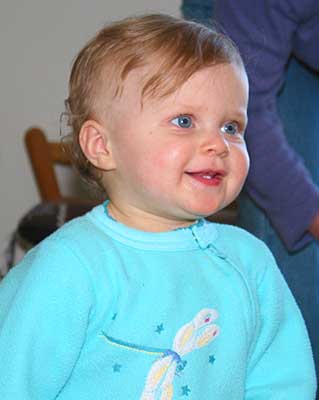 In 2002 our granddaughter, aka The Little Artist, was born and my photo habit accelerated. I was getting out of control. But I continued to print out pages, only this time the main subject was the baby, although I still photographed wildflowers. Three years ago my niece, who was a
Creative Memories
consultant, gave my daughter and me a lesson in scrapbooking. We both bought all the stuff--albums, croppers, snippers, scissors, templates--you name it. My daughter made albums of baby pictures while her husband was deployed in Eastern Europe. I sorted our family photos into shoe-sized photo boxes which are neatly stacked but haven't been opened for two years. The scrapbooking supplies are dusty. The pens may be dried up; I haven't checked.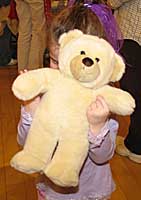 Which brings me to my confession: on the occasion of our granddaughter's fourth birthday party at
Build-a-Bear
last weekend, I took 285 digital photos. Before you start throwing memory cards at me, let me explain the obvious fact that seven four-year-olds and their parents tend to move pretty fast and I expected a lot of blurry photos. There weren't that many. Still, I culled the photos down to about 125 and decided to make a SCRAPBOOK. A real one, not printed album pages.
I went to Scrapbook Studio at a
Cord Camera shop
. I found a 9" x 9" scrapbook that was Jenna's favorite color--lavender--with ten pages (twenty counting the backside). Just the right size for her--those 12" x 12" scrapbooks are cumbersone. I bought three purple background pages and two multicolored pattern pages, plus three sticker packs. Then the work began. It takes a long time to print enhanced photos, so I did some multi-tasking while the photos printed.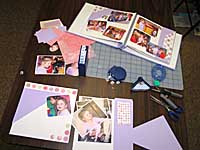 Yesterday I put the book together and got deep into the addiction. Sorting, cutting, cropping, arranging, adhering--this is one of the most labor-intensive projects I've ever done. And it's fun! Just playing with the background designs was fun. So was arranging the photos to tell the story of the Big Day. I finished eight of the pages in time to show them to the family at Jenna's birthday party for the Grandparents last night. I haven't written anything on the pages yet and am trying to decide whether to use the computer or handwriting. (Is there a transparent sticky-paper that you can inkjet print on?)
Well, I enjoyed scrapbooking, but it will be awhile before I do that again. Just wanted you to know that anyone can do scrapbooking--and you'll be surprised, if you try it, at how much you'll learn about design and color. Don't worry about becoming addicted. You can walk away, just like I did. Uhmmm. Where are my scissors? my oval template? Just...one...more...page....
Labels: digital photography, little artist, scrapbooking, wildflowers