More on cropping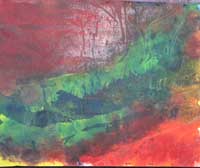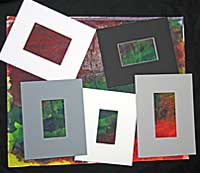 Cropping can be a useful project when you're feeling blocked or don't have much time to paint. Last weekend I cut 60 small mats in assorted colors from scraps I begged from the framer. The openings ranged from 2" x 5" to 6" x 10" with 2 1/2" borders. I gave each student in my watercolor class two mats to play with on their old paintings.
This is a great way to train your eye to see design. Just a small nudge one way or another can make a big difference in a composition. Isolate areas that work, so they aren't diminished by the stuff that doesn't. You can cut out the cropped parts and mat them or just use this as an exercise to strengthen your design awareness.
My
Logan mat cutter
makes it easy to create small mats without measuring. I'm sure you can do it with the less expensive models, but I like the squaring arm on the 750 that assures correct alignment. I haven't cut mats for several years and thought it might bother my arthritic hands, but that didn't seem to be a problem at all.