Great turnout for the opening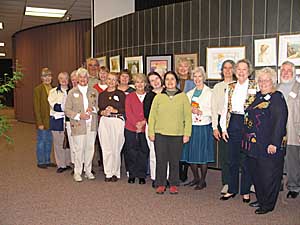 Yesterday's opening of the Hithergreen watercolor class exhibition was a great event. Twenty-two class members were present and I counted at least fifty-four guests in my photos. There were many more that I didn't photograph--I'm guessing there may have been more than one hundred people through the show. Vernie decorated the refreshment table and everyone contributed homemade sweets and snacks, plus cider, coffee and tea. Our visitors took their time to enjoy the artwork and food. I think it was a big day for most of the artists to see their work being appreciated and highly regarded. One artist sold a painting and we all celebrated her triumph.
I should have a web page ready in a couple of days and will put a link on my blog and web site.
Labels: exhibitions, hithergreen