Greater Cincinnati Watercolor Society collage demo
I had a beautiful early morning drive yesterday through the countryside from my home near Centerville to the Cincinnati Art Club at the foot of Mt. Adams. The back route I took winds through historic Lebanon, Ohio, a visual delight, especially as the old trees are beginning to turn color. One of my students (Vernie) accompanied me and we enjoyed the drive, which I had timed perfectly to allow for leisurely setup at 9:30 before the meeting began at ten.
Oops! I missed a turn going through Eden Park and ended up climbing Mt. Adams, a series of narrow, winding, confusing streets. I knew where I was, but couldn't figure out how to get where I was going! I figured out that I should be heading down instead of up. When I finally got near the bottom of Mt. Adams we asked a workman and found we were about two blocks from our destination. We arrived at about two minutes before ten. The meeting hadn't started, but I felt rushed as I began the demo shortly afterwards. Not a problem, as it turned out, with such a receptive audience.
What a great group--around sixty people attended, not bad for a midmorning, midweek meeting. I eavesdropped on the meeting while I was setting up and was impressed with the announcements of several members accepted in prestigious shows and the many awards they received. The group was very attentive, many taking notes and others asking good questions as I went along. I confess to being a bit off balance at the start, probably from the late arrival and rush to set up, but I soon hit my stride. It's easy when you love what you do and have an appreciative audience.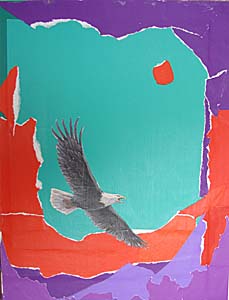 My collage demo is a summary of what I teach in my workshops, from a brief history of paper collage to introduction of new materials and techniques. Some in yesterday's audience have tried collage, but few were aware of the newer products that are available. I took collage charts I've made and many samples of materials and techniques, in addition to some of my smaller collage works.
What I love about collage is that anyone can do it with just a few simple materials. Collage can be a craft or fine art. You can produce small collage postcards or big collage artworks. Collage can be a great blockbuster or a major medium. My book,
Creative Collage Techniques
is a comprehensive course in collage from beginning to advanced techniques.
Check out these links to collage projects on my web site:
Magazine Collage
Rice Paper Collage
Nature Collage
See also
some of my collages
on my web site.
Labels: art organizations, collage, creative collage