New Jersey Workshop Highlights
Teaching a Pine Shores Art Association workshop is always more than just doing a workshop. This was my fourth since 1999 and I've grown very fond of the people who organize and participate in the workshops there. The membership comes from a wide area surrounding Manahawkin, the site of the workshop, including Little Egg Harbor Township, Long Beach Island, Atlantic City and even North Jersey. During the first two workshops I stayed on the beach in Surf City. In 1999 they entertained me with Hurricane Floyd, which was in tropical storm mode as it lashed the building where I was teaching a color workshop. We had been evacuated from the island and stayed in Manahawkin until early evening.
In 2001, a month after the September 11 terrorist attack in NYC, I taught a creativity workshop, which had an unusual spiritual element with so many having been affected by that terrible event. Then in 2004 we did a lively design and collage workshop without any disasters to contend with. That year I stayed with one of the PSAA members in her lovely shore house on the bay of Long Beach Island. I returned to her place this year. She wasn't there when I arrived, so I watched a sailing regatta from her dining room. Before the weekend was out, we enjoyed a spectacular fireworks display from a marina across the bay. During the week my hostess wined and dined me, drove me up to Barnegat Light House and other sights on the island. Long Beach Island is a beautiful, sometimes overcrowded, vacation destination during the summer. In September, it's idyllic with little traffic, pleasant weather and visual treats for an artist's eye.
The Sunday book-signing was held at Watermark Gallery in Tuckerton, where I first saw some of the work I used in
The New Creative Artist
. Six artists attended and signed books along with me for visitors to the gallery. They had a good crowd and wonderful food. I'll put photos on a web page as soon as I can get them in the right format.
On Monday evening at the regular meeting of PSAA I gave a slide program using slides of eighty paintings from the book. I talked about the principles each piece illustrates in the book, and also about how I found the art or the artist through my travels or reading.
The workshop and demo were held on the mainland at Manahawkin, where PSAA has outfitted the top floor of a frame house for classes and meetings. (The lower floor houses an American Legion post.) The large room is well equipped with demo mirror, books and setups for a wide variety of ongoing classes and workshops, plus a compact office with copier and other office machines. There's even a small kitchen and microwave at one end and a double sink. While it isn't "state-of-the-art" like some fancy art centers, it has everything you need, plus an atmosphere that makes meetings and classes friendly and fun.
The workshop, an intermediate to advanced color workshop based on my book,
Exploring Color
, extended from Tuesday through Friday. We reviewed basic principles, then moved on to color contrasts, color schemes and special effects in color. The class was wonderful, really getting into the swing of things. I should have a few photos soon.
But, of course, Friday was the highlight with heavy winds, rain and flooding. This was the real thing. It rained heavily all night, but the roads didn't seem that bad when we drove over the causeway to Manahawkin. However, by noon six inches of rain were expected. Within the hour the schools were closed and traffic in one direction was completely at a standstill. We heard that no one was being allowed on the island. Two of my friends left to pick up lunch and it took them a long time to get back with all the rain and traffic. I stood at the front door of the building and wondered why the guy next door was piling up sand bags along the curb in front of his house. A short while later, a young woman (who may have been his wife) came to us nearly hysterical, worried about her house and children. This got several of our group somewhat agitated.
We were just finishing lunch when someone from the fire department came up to talk to us. The first visit was FYI about the danger to the foundation of the house next door; the second was to tell us to pack up and evacuate the building in case that house collapsed. It was leaning our direction. They invited us to the firehouse across the street. We couldn't have gone anywhere else with all the flooding. They suggested we load our cars and move them to the firehouse. It was pretty chaotic until I said I would bring my supplies into the firehouse and go on with the workshop.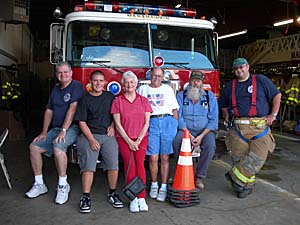 Which I did. They gave us soft drinks and offered snacks, making us feel welcome. There was plenty of room, nice tables and decent lighting on the table where I set up my demos. When I finished my Friday afternoon lesson, the sun was starting to peek out and the rain had stopped. We couldn't leave, though. The roads and traffic were still very bad. So I continued to teach from my book, adding "design and color" to the syllabus, until it was safe to leave.
After class it took another 45 minutes or so to get my materials packed and shipped from Staples. Then we headed across the bridge to the island. It was very slow going with bumper-to-bumper traffic. In many areas we encountered high water, mostly at intersections. Police officers directed traffic through congested areas. Orange construction cones narrowed traffic to one lane in places. Quite a few cars were stalled or pulled over. Only SUVs and trucks were high enough to clear the flooding in places. People waded across intersections through knee-high water. Not far from the shore house we reached slightly higher ground, where there were puddles instead of flood-waters.
Saturday was anti-climactic (in a good way!) without extreme weather. My hostess drove me to Atlantic City to catch my flight to Cincinnati, where I made my connection to Dayton without a hitch.
I've told my friends at Pine Shores that they don't need to go to such extremes to entertain me. They haven't done hail or a blizzard yet.
Labels: art organizations, creative artist, workshop