On pins and needles
That's where I'm sitting, waiting for my advance copy of
Confident Color
to arrive. It's still a couple of weeks till "book-in-house" date, but in the past I've received an early copy well before that. I may as well relax. I'm beginning to think the pub date may have been changed to a later date. Looks like I'm the last to know.
The Artist's Showplace
is planning a book and exhibition event October 10 when I'm in Dallas for a
Creative Color Workshop
October 6-10, so lots to look forward to in the coming weeks. And, I've scheduled a book-signing October 16 at Books & Co. at the Greene in Beavercreek, Ohio.
Today I'm tying loose ends before I leave in the morning for Fish Creek, Wisconsin, and The Peninsula Art School workshop (see below). I'm looking forward to it. The weather report looks good, although I couldn't ask for more than we're getting here right now. It's sunny, cool and dry, not very typical of Ohio in mid-August, and it's wonderful.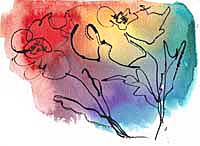 My Hithergreen class began a new term on Monday with a full class of 25, all but three returning students. This group has bonded as friends and are so much fun to work with. The topic of the day was combining ink line with watercolor washes and they did some good pieces. They have two weeks to play with it before we revisit the subject when I return from Wisconsin. I'm excited about their response to this technique, which is new to nearly all of them. This little sketch, 4" x 6", began as a color-scheme mingling. With a thin piece of bamboo from a placemat as the drawing tool, I dipped into Bombay Black India Ink and scribbled spontaneous lines over the dry washes to represent flowers and leaves.
Labels: book signing, confident color, hithergreen, workshop