Update on the woods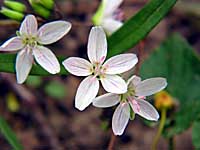 I honestly thought the woods was doomed when we had the alternating heat-and-freeze weather attacks the past few weeks. Even the may-apples looked like boiled cabbage. Things seem to be blooming in strange sequences, though. Some early bloomers like spring beauty are only now showing up. Happily, most things seem to have bounced back and the woods is beautifully abloom. The bluebells are spreading, so instead of one patch by the patio, there are now splotches of blue throughout the woods. I planted some wild blue flox a couple of years ago and they are finally blooming. There is another patch that I think might be from dormant seeds of the ones that we enjoyed years ago. The entire woods used to be filled with phlox until the honeysuckle took over. I'm still patrolling to keep the honeysuckle from coming back and to prevent the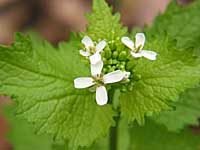 garlic-mustard from going to seed. I only find one or two now, which is so amazing when you consider that the woods was choked with both five years ago when I started this project. I did find colonies of flowering garlic-mustard under the huge fir trees last night. They are very sneaky and were hiding in there. They're history now.
If you're new to my blog, you might be interested in the story of my
woodland restoration project
on my website or my pictures of the
wildflowers
in the woods. Some of those shown haven't survived, but many are flourishing. I'm happy to let nature work out the natural balance. I love to walk through the my little quarter-acre woods and enjoy the view from my windows.
Labels: garlic mustard, honeysuckle, wildflowers, woodland, woods