Exploring Color Class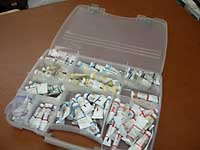 I was sorting through my watercolor paints a couple of weeks ago to see if I needed to replenish any of my colors. I had four Ziploc bags full of paint tubes. At one time they were sorted according to the different color systems I teach,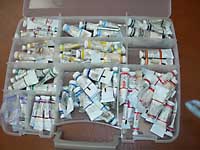 but they were all jumbled. I couldn't make any sense out of the way they were sorted, so I went on a search for a better way to carry my paints.I found this 11" x 15" box at WalMart in the fishing tackle department, called a Plano "Connectable Satchel Stowaway" #3870. It's perfect for all my paints and you can also buy a second one that attaches to this one for more paint or other supplies. The dividers are adjustable for 5-22 compartments. The case itself is very lightweight with a carrying handle. I don't remember what I paid for them, but it was very reasonable--under $25 for both, I think. I'm glad I don't have to face my new class with a handful of plastic bags, when I'm trying to teach them something about organizing and understanding color!
Labels: art supplies, exploring color, tutorials, watercolor